Video Mystery Shopping: Benchmark 2015 The Results are in!
---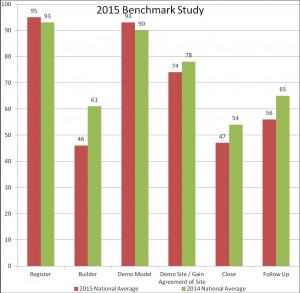 From January to December 2015, Melinda Brody & Company gathered scorecards from more than 1000 video shops representing 36 different builders / divisions from across the country. We then compared 6 key questions. The graph above shows the percentage of new home sales associates that discussed the Builder, Demonstrated the Model, Demonstrated the Home Site and or Gained Agreement of Home Site, Asked for the Sale, Registered their prospect and Followed Up with the prospect.
These are the national results of our 2015 Benchmark Study. So, what does it mean? Well, let's talk about the good, the bad, and the ugly!
The Good – Sales associates are registering their clients! A whopping 95% of them are doing this! Yeah! Also, the model demonstration has improved! 93% of the sales associates successfully completed this portion of the shop!
The Bad – Scores dropped this year in the Builder story, home site demo, and follow up. This tells me that these are areas that require additional training with your sales teams. I was shocked that the builder's story dropped 15 %! This is a critical part of the sales presentation. It is also a part that the builder needs to be involved in providing. What's YOUR USP (Unique Selling Proposition)? What sets you apart from the pack? Important questions
The Ugly – Our sales associates are still NOT closing. The score dropped to 47% in 2015. That means that 53% are not closing! This is particularly upsetting because the shoppers we send into your sales offices are READY, WILLING, and ABLE buyers. In the 30 years I have conducted video mystery shops, closing has ALWAYS ranked dead last. This year is no exception. This is an area that really needs to be focused on in your training and sales meetings. How do you 'earn the right' to ask for the sale?
If you need assistance in conducting training programs that can help your sales team in these areas, give us a call. We provide personalized and customized sales training for your team.
Want to learn more? Click here to view a short video.