Are you a "Sales Rock Star"?
---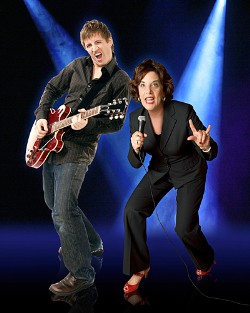 The VideoShoppers.com along with Melinda Brody and Company, has mystery shopped over 10,000 salespeople in 24 years. We rarely come across what we call a "Sales Rock Star." A Sales Rock Star is someone who stands out from the crowd, creates a unique experience and builds a huge fan club.
If you're in sales, you need to ask yourself:
I am a Lounge Lizard or a Rock Star?
Lounge Lizard:
> Sings the same old songs
> Boring, blah
> Same look as everyone
> Does corporate parties, county fairgrounds
Rock Star:
> Sings originals
> Electrifying
> Unique brand
> Sells out Madison Square Garden
Here are 3 Principles you can use to Rock Your Sales:
Principle #1: Rock Stars have unbridled enthusiasm and passion.
Rock Stars seem to "make an entrance". They actually strut into a room. They are electrifying when performing. Think of Mick Jagger. He's someone's grandpa. Can you imagine YOUR grandpa dancing, singing, strutting for 3 straight hours to a sold out crowd? Think of some other stars-Madonna, Bruce Springsteen, Van Halen. All of them putting it out there every time on stage with the most enthusiastic delivery.
It's easy to be enthusiastic when you are passionate about your work, Now, here's the tough question….
Do you LOVE what you do SO MUCH that you would do it for FREE? (Boy, in this economy, some of us ARE doing it for free). Even Grandma Lee on America's Got Talent answered that question correctly. When asked if she was excited about possibly winning the million dollar prize, she replied, "I'm not even thinking about the money…I love what I'm doing". Here's someone who went after their passion at 75!  Very simply, if you do what you're passionate about, the money will simply show up. Plain and simple.
Principle #2-Rock Stars connect with their audience
The most successful rockers know their audience and give them what they want. They build their fan club one fan at a time by signing autographs, playing longer than expected, playing songs everyone knows and can sing along to and are responsive to audience change and direction.
Do you connect with your customers? Are you asking questions to determine their needs, wants, ability, pain? Do you stay in touch and continue to be their "trusted advisor?"
Principle #3-Rock Stars are fearless, bold, break all the rules
Rock Stars don't play it safe. Look at KISS and their wild makeup. Check out the outfits Elton John used to wear and his crazy glasses. Don't even get me started about the "chutzpah" of Madonna!
Do you push yourself to do something scary? Asking for the sale is scary. Getting rejected doesn't feel good. Making prospect calls is unnerving. It's GOOD to be uncomfortable. That's where you need to be. If you're uncomfortable with something, that's a sign it's something you need to deal with and work through.
Remember, The Beatles said it best…..
 "All you need is Sales, I mean Love!"