Video Mystery Shopping: You had me at hello!
---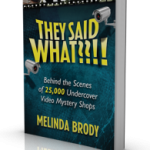 In Chapter 2 of my new book 'They Said What??!! Behind the Scenes of 25,000 Undercover Video Mystery Shops'  I talk about the importance of making a strong first impression.  This message really hit home with me when I first started my mystery shopping business in 1986. One of my first assignments was to shop a small builder in Orlando. As I entered the sales office, I heard muffled voices in the back of the model near the bedroom area. Suddenly the back door to the model slammed shut! A short time later, a flustered female sales agent (with mussed hair!) appeared. She greeted me while quickly buttoning her shirt. Oh, no! She was on a 'date.' Suffice to say, the rest of the shop didn't go very well. You see, the way you greet the prospect sets the stage for the entire visit. Period.
The goal of the Approach/Introduction is to break preoccupation and help your prospect relax and feel comfortable. In order to establish this kind of rapport, you must become the new home sales counselor.
The questions that we score by on our shopping report in the Approach/Introduction process includes:
Did the SA welcome the prospect warmly and with enthusiasm?
Did the SA initiate introductions?
Did the SA use the prospect's name more than twice during the visit?
Did the SA offer the prospect refreshments?
Did the SA complete the registration card?
Did the SA determine if the prospect had visited the company's website?
All of these questions work together to create a successful Approach/Introduction. If you follow this procedure up front, I can promise you that the rest of your presentation will have a nice, natural flow to it.
Your prospects are 'guests' in your home and it is your job to make them feel comfortable and welcomed. I am sure you have all gone through an experience where you entered a store or business and have been 'snubbed' by the salesperson who's supposed to be waiting on you. You know the kind of person I'm talking about. They make you feel as though your very presence is unwanted! Not a good feeling.
Don't make these mistakes. Make each person feel as though they are your highest priority at that very moment. I tell clients to imagine that a famous celebrity or movie star has just walked through the door (think Brad Pitt/Angelina Jolie). How different would your sales presentation be?
"I read your book today, cover to cover. You have given the sales staff the material from which they can become great successes. To know is one thing, to know how to pass it along is a gift. You have it."
Marilyn Whelan, Business Owner
To learn more about how YOU can master your sales presentation, purchase your copy of Melinda's book today. Click below to order