Video Mystery Shopping – Attention New Homes Sales Associates – You guys are FABULOUS!
---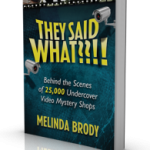 A big part of my job centers on watching and critiquing video shops. I've literally watched THOUSANDS of them during my career, and have seen it ALL! In fact, I've seen so much that I was actually inspired to write a book this year, 'They Said What??! Behind the Scenes of 25,000 Undercover Video Shops', which chronicles just some of the things I've witnessed in the three decades I've been doing video mystery shopping for new homebuilders.
I was recently asked to be a judge for a Homebuilder Association's Sales & Marketing Annual Awards program. Naturally, I was appointed to review taped video interviews of those sales associates who had been nominated by the Sales Manager for the coveted 'Sales Person of the Year' awards.
I dedicated a Sunday morning to review the interviews. I got curled up on my couch, sipping a hot cup of coffee and started watching these interviews. As I sat and watched each video, I felt a deep sense of pride in our industry. The sales people were AWESOME! Ironically, I saw several familiar faces from video shops in the past, and in some cases, the sales people actually referenced being video shopped and proudly recited their scores!
I was blown away by the professionalism, talent and true passion for the building industry that each of these sales people exhibited. Honestly, it almost brought tears to my eyes! This was the crème de la crème of the industry. Many had been sales associate for 15 plus years, and had weathered the storm of the industry crash in 2007. However, I was equally impressed with the 'young lions and lionesses' that had only been in the industry for a few years and yet were representing the best of the best.
Judging these interviews was very difficult for me, as I truly felt each and every one these nominees were winners! And, this is coming from a person who has made a career out of carefully critiquing, judging and scoring new home sales associates.
My big 'take away' from the whole experience? The building industry is back and better than ever. There are some very talented sales professionals out there selling new homes who know that 'making the sale' is about much more than selling sticks & bricks. It's about listening, questioning, meeting your customer's needs and forming a strong relationship with them. Way to go new home sales professionals! You guys are fabulous! Thank you all for what you do and for your professionalism and passion. Those two characteristics will never go out of style!