Video Mystery Shopping: 28 years of reflection
---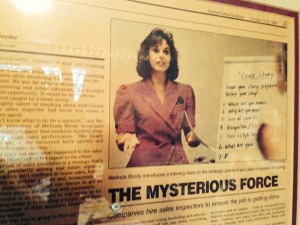 October is always a reflective month for me. It marks the business anniversary for Melinda Brody & Company (28 years!).  Take a look at the picture on the right, it was way back in the 80s! Big shoulder pads, big hair….yep, that was me!
Each year, I take some time to think about years past. I think about what I have learned over the years, and plan my goals for the upcoming year. This year I took it a step further and came up with the Top 5 things I have learned from being an entrepreneur business owner and a longtime member of the home building industry. I call them my personal secrets of success!
You must have a real passion for what you do. Over the years, this industry has experienced tremendous highs and super scary lows. I realized a long time ago that if the only reason I was in the business was to make money, I should get another job. You have to truly love what you do.
Don't burn bridges. The homebuilding industry is small, and most people who are a part of this fabulous industry make it a lifelong career. Treat everyone you meet along the way with dignity and respect. You never know, that purchasing assistant that you are rude to may one day be a division president! That receptionist that you treat poorly may one day be your sales manager!
Don't take it personally. Rejection and disappointment are part of the reality of any career. There will be days when you feel like you are 'king of the world' and days when you won't want to get out of bed. If you take everything personally, your emotions will set off on a wild roller coaster ride. I've had clients come and go, and if I took it to heart every time I lost an account, I wouldn't have made it 28 years in the business.
Celebrate your successes. Take the time to celebrate your wins, even the small ones! Set goals, but also set mini-goals. This keeps you motivated and on track. The home building industry can be tough. There is a lot of pressure! So, why not take the time to celebrate all the milestones, big and small!
Treat every customer like they are your only customer. In my business I have some accounts that order 200 video mystery shops a year and others that order just 2. But, you would never know that by the way my staff and I respond to their needs. In our world, every customer deserves to be treated like they are the most important client we have. Because, in reality, they are!
I want to thank all my friends and customers who have supported me over the years. You all have made a huge impact on me and on Melinda Brody & Company. Thank you.